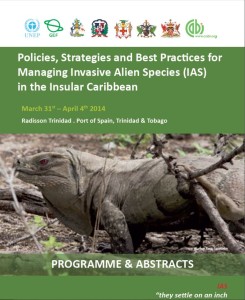 Policies, Strategies and Best Practices for Managing Invasive Alien Species (IAS) in the Insular Caribbean
March 31st – April 4th 2014
Radisson Trinidad
Port of Spain, Trinidad & Tobago
Objectives of the Conference:
To highlight the economic impact of IAS in the Caribbean.
To share best practices, strategies; effective communication tools and techniques for managing and controlling IAS in the Caribbean.
To foster greater regional collaboration for dealing with IAS in the region.
Highlight the actions and achievements of the Project: "Mitigating the Threats

of Invasive Alien Species in the Insular Caribbean" (MTIASIC).

Create greater awareness of IAS issues in the wider Caribbean.
Read more about the conference and the items that will be presented: Workshop_Programme