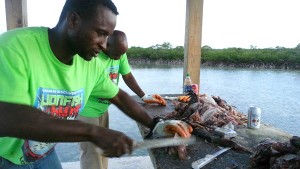 SEYMOUR'S, Long Island – The Ministry of Tourism and its partners have come together to further heighten the awareness of the invasive venomous Lionfish in Bahamian waters and steps to eliminate its impact on local species.
One such avenue is the Lionfish Hunt II, a competition and cook-off between local fishermen and chefs, held May 17 to 18, 2013 at Seymour's Dock.
You can read more on the Lionfish Hunt II (PDF), organized by Charles & Teresa Knowles of Bahamas Discovery Quest in Seymours, Long Island as featured in the Bahamas Press or you can use the website link.