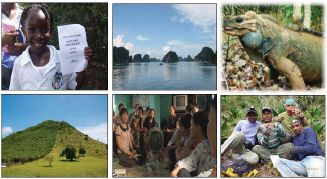 This Guide is the result of requests from individuals with diverse interests in conservation, living resources management, especially coastal areas and for updates on annual events in conservation, climate change, tourism, and professional capacity strengthening. It includes therefore a wide range of subjects.
It is organized into sections covering International Special Days, Decades, events of special importance for professional development and students, annual events related to Conventions, Agreements, Regional Organizations, Commissions and a monthly list of all events. Each reference has the title of the event, date and location, and a web site or email contact information. In a few cases, some details are missing at the time of compilation. The list is not complete or final: it is expected that new 2013 opportunities will develop, or dates and locations changed.
Users are advised to check carefully the details of each event, the professional profile of the organizations involved, the sponsors, locations, deadlines, costs and requirements for participation. Often (especially for students) there are possibilities of full or partial support for attendance, especially if papers, or posters will be done or presentations delivered. Applications need to be made as early as possible.
Full document: 2013 Guide Meetings Conferencs Events Training (PDF)
Compiled by Boris Fabres December 2012
Email: bafabres@yahoo.com