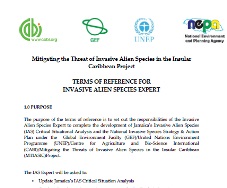 The purpose of the terms of reference is to set out the responsibilities of the Invasive Alien Species Expert to complete the development of Jamaica Invasive Alien Species (IAS) Critical Situational Analysis and the National Invasive Species Strategy & Action Plan under the Global Environment Facilty (GEF)/United Nations Environment Programme (UNEP)/Centre for Agriculture and Bio-Science International (CABI)/Mitigating the Threats of Invasive Alien Species in the Insular Caribbean (MTIASIC)Project.

The IAS Expert will be asked to:
. Update Jamaicafs IAS Critical Situation Analysis
. Conduct Regulatory Impact Assessment on the Pet Trade in Jamaica
. Finalize technical version of Jamaicafs Draft National Invasive Species Strategy and Action Plan in Policy format
. Produce non-technical version of Jamaicafs National Invasive Species Strategy and Action Plan.
See: Terms of Reference for NISS Consultant (PDF)