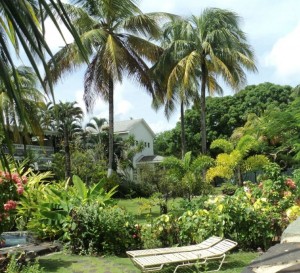 Survey of Ornamental Plants in Resorts and Hotels Saint Lucia, 2012 carried out under the project Mitigating the Threats of Invasive Alien Species in the Insular Caribbean
Project No. GFL / 2328 – 2713-4A86, GF-1030-09-03
Roger Graveson – Botanist (Consultants)
Forestry Department Union, October 2012
The consultant Roger Graveson had been concerned for some time about the potential impact on the environment of ornamental species grown in hotels and resorts in Saint Lucia. Workshops had been arranged by Dr. Ulrike Krauss, National Coordinator, Invasive Alien Species Projects, for hotels and resorts to learn about the dangers of invasive animal and plant species.
The consultant had given a presentation at each of these meetings. Using contacts made at these meetings, he visited several resorts as part of this project. He also contacted other resorts, particularly those in environmentally sensitive areas.
Plant lists were made and sent to resorts when requested so that, using the consultants website (www.saintlucianplants.com), the property could identify their species, thus helping in the training of gardeners and facilitating guest tours and in identifying ornamentals with a tendency to grow in the wild.
You can read more about this in Resorts IAP (PDF)