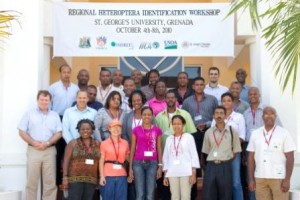 Regional  Workshop on the Identification of Heteropteran Pest of
Economic Importance
October 4th- 7th 2010
WINDREF Building
St George's University
Background
The Regional Workshop on the identification of Heteropteran pest was held at the Windward Islands Research and Education Foundation (WINDREF) Building at the St George's University St George's Grenada. This workshop was a collaborative effort between United States Department of Agriculture Animal and Plant Health Inspection Service USDA APHIS IS, the Inter-American Institute for Cooperation on Agriculture (IICA), the Florida Association for Volunteer Action in the Caribbean and the Americas (FAVACA), The St. George's University, the Windward Islands Research and Education Foundation (WINDREF) and the Ministry of Agriculture in Grenada.
Objectives   The general objective of this workshop was to inform on the science and technical knowledge required for the Identification of Heteropteran Pests of Economic Importance to the Region.
The specific objectives were
1. To provide training and experience to participants in the identification of the true bugs that occur in the West Indies that are of quarantine concern or are potential invasives in the Caribbean Basin.
2. To teach participants about the diagnostic characters for identifying specimens of the major Heteropteran , families, as well as some important genera of these true bugs.
3. To inform the trainees of methods of survey and detection trapping, techniques for preparation and preservation of specimens, and sources of authoritative taxonomic identifications.
4. To facilitate the dissemination of information which will assist technicians to utilize the data collected to safeguard the Greater Caribbean from threats and impacts from the introduction, establishment, and spread of Heteropteran pest.
It is well know that there are many Heteropteran pests that are of quarantine importance to the Caribbean Region. Some of these such as the small rice stink bug Oebalus poecilus, which is a significant pest of rice and the southern green sting bug Nezara viridula  a general pest of  crops are present in some countries, while others, such as the cotton seed bug, Oxycarenus hyalinipennis, are not known to be present  but are of economic importance to the Region.  The Caribbean is a net importer of much of its food and as signatories to the 1995 world trade organization's agreement, meant that there is now an increased trade in agricultural commodities from all parts of the world. This increased trade has signaled an increase in the movement of pests, therefore, it is important to strengthen the capacity of technicians in the region for identification of pests in the Order Heteroptera as part of the annual series of identification workshops now being undertaken.